Laird considers his style "Painting with Graphite" as with traditional painting, many layers of paint may be applied in order to complete a piece of work. The same principles are garnered for one of Laird's rendered portraits.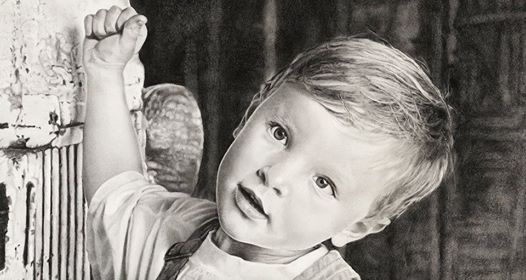 He begins by doing several rough sketches to work out composition and then progresses to extensive photographic reference. After hours of working with the model the client and Laird then decide on a final shot to work from. The final image is then transferred to 110 lb. / 100% cotton Strathmore or Crescent drawing board. Other reference materials may be used to help with the final work.
Kenneth begins by slowly blocking in large areas of the piece starting with leads ranging from 9H to 6B. The procedure is slow but gradually these layers begin to take shape, just as in any successful painting. Next he begins to lay in matching values to the entire piece. Laird builds the artwork from light to dark, progressing till all areas are filled, including the meticulous task of capturing a perfect likeness. No fixatives are used making his work extremely fragile to the touch. No smearing and rubbing is used in his work, only the lead of the pencil and a little tissue to remove dust or impurities during the process. Laird feels it is just intuition that helps him decide when the detail work is complete and the portrait is not overworked.